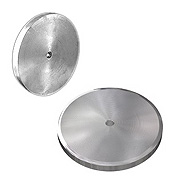 Cast iron laps are the hardest laps available for commercial applications. The cast iron lap is standard for cutting corundum in Thailand and lapidaries use cast iron to polish hard stones with excellent results.
Although they can be difficult to use, a skilled polisher can produce very flat facets with sharp facet junctions and outstanding brilliance even in soft stones. Scoring is accomplished with a sharp knife or a diamond.

Available in 6 inch diameter only, the standard arbor size is 1/2" to support most faceting machines. Other arbor sizes are available by request.