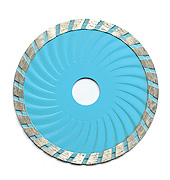 Sintered Diamond Turbo Rim blade adopt vacuum sintered technology, which can greatly improve the stability and stronger adhesion of the diamonds to the blade body. The result is improved efficiency, cutting life and operator safety.
Professional Cutting Blades (Dry cutting/Wet cutting).
Cutting various building materials,ceramic, roof tiles, granite, concrete, marble, bricks, stones, etc.